Introduction
Benjamin the Elephant is big and strong, placid and good-natured – a real elephant in other words. But one thing makes him stand out from other elephants: he can talk. And when he is particularly cheerful or has a great elephant-sized idea, he sounds his unmistakable trumpet "Torooo!".
Benjamin the Elephant is not only famous for his trumpeting, but for his friendliness and willingness to help. Everyone appreciates him, especially the animals at the Newtown Zoo, where Benjamin lives. He is always glad to muck in when needed. Benjamin can always be relied on. When he's around, there is nothing to worry about.
But sometimes even Benjamin is sad or confused. When that happens, his best friend Otto and smart Stella cheer him up. They spend as much time with Benjamin the Elephant as school will allow. Together they have many exciting adventures in Newtown, the surrounding area, and sometimes much further afield.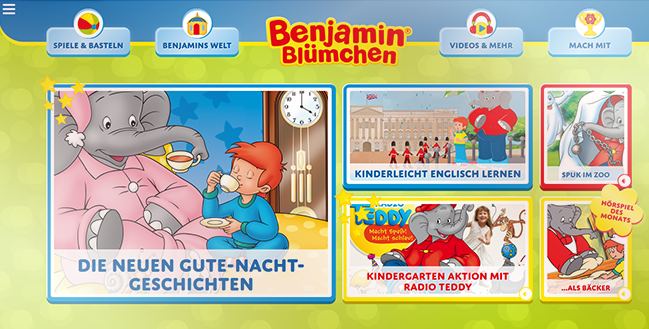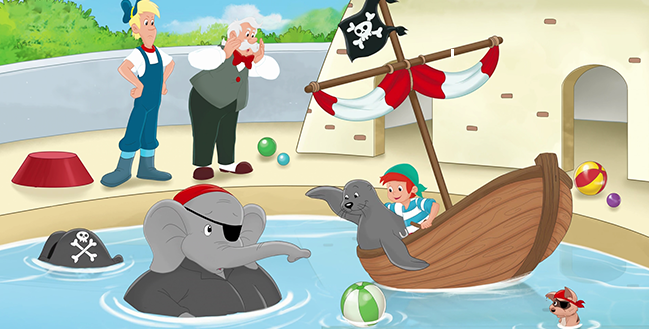 Short History
On 7.7.1977 the children's author Elfie Donnelly and the hör+lies publishing house (now KIDDINX Studios GmbH) signed a contract for the production of the first Benjamin the Elephant audio play. As a fearless talking weather elephant Benjamin immediately captured the hearts of his listeners.
The eighties marked the publication of the first Benjamin the Elephant picture books. It was an absolute novelty, as never before had an audio play character found its way onto paper. A series of books was developed and was soon followed by the launch of the BENJAMIN THE ELEPHANT pre-school magazine, which is still popular today.
In 1988 the hör+lies publishing house acquired the rights for Benjamin the Elephant and his animated film career took off. In 1991 the production of the classic series and the 45 minute special episodes of Benjamin the Elephant began and appeared on the video market.
With the production of 52 English episodes of BENJAMIN THE ELEPHANT in 2002, the big brave elephant started to conquer the international market. Nowadays the elephantastic adventures of BENJAMIN are on TV all around the world.
Benjamin's appearance in the latest media formats has made the talking elephant a modern classic of children's entertainment. His lovingly designed web portal www.benjaminblümchen.de has become one of the most popular German children's sites. Today his adventures are available on CD, DVD, download, as a Benjamin App and on more than 500 merchandising items.